Production information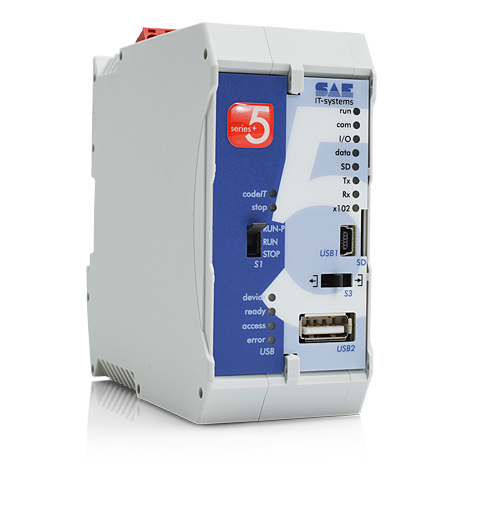 net-line FW-5-Gate | Micro Telecontrol Station
2 Ethernet LAN TCP / IP connections
2 RS-485 field interfaces
CL/S0 meter interface in FW-5-GATE-cl
RS-232/V.24 interface
Temperature sensor, -20° to 100° C
Integrated wide range power supply unit, 20 to 72 V DC
or 230 V AC power supply in FW-5-GATE-230
FW-5-Gate - Compact and smart!
More communication possibilities even in smaller spaces, integrated inputs/outputs have been omitted. The FW-5-GATE can also be supplemented with expansion modules and interface modules. Cost-effective solutions for intelligent secondary distribution networks and smart metering through further interfaces with SML/SyM² meter integration, among others. An integrated temperature sensor measures the station temperature, which can be used e.g. for overload checks on a transformer.
Deployment as Transparent Protocol Converter
From setIT V5.3.7 respectively V5.4. (for CL versions ) the FW-5-GATE can also be operated in the "Protocol converter" mode. In this case, the device enables the conversion of the following protocols, without that any process data needs to be configured:
IEC -101 to IEC -104
IEC -101 to IEC -104 (VPN encrypted)
IEC -104 to IEC -104 (VPN encrypted)
IEC -104 to IEC -101
The connection can be established parallel to several control centers.
Fields of use

Intelligent secondary unit substation with integration of earth fault/short circuit indicators, network analysis systems and protective devices

Smart meter integration in energy management systems and remote meter reading control centers

Intelligent measurement point for wide range of regulation in distribution networks

Field devise in transformer substations with protection device coupling

Monitoring of media and infrastructure systems in pipeline

s
Specifications
Technical data: net-line FW-5-Gate
Construction
Substation/bay control, telecontrol and automation system in plastic housing, expandable with
I/O and communication modules for DIN rail mounting
Communication
2 Ethernet LAN TCP/IP, 10/100BaseTx, auto-MDIX, auto-negotiation
1 EIA/RS-485 interface, galvanically isolated
1 EIA/RS-485 meter interface or CS/S0 interface, galvanically isolated
1 EIA/RS-232/V.24 interface
Inputs/outputs
Sensor for ambient/transformer temperature, -20° to 100° C ±2° C,up to 12 expansion modules
for operation of single-/double-point, transformer tap and alarm signals, measurands, metered
values, single, double and transformer tap commands, set points, metered value pulse outputs
Input/output
single-point, double-point, transformer tap position and alarm signals, measurands, metered
values, single, double and transformer tap commands, set points, metered value pulse outputs
, expandable up to 12 I/O modules
Protocols
IEC 61850 · IED and protective equipment
IEC 60870-5-101 · telecontrol technology, station control technology
IEC 60870-5-103 · protective equipment
IEC 60870-5-104 · TCP/IP link to control centre
IEC 62056-21 · smart meter link (former IEC 1107)
SML · SyM² smart meter link via Ethernet
DNP3 · server serial/IP
DSfG · natural gas interface
Modbus RTU/TCP · master/slave
Profibus-DP slave, MPI/3964R/RK512 · field bus
SNMP · network management
NTP/SNTP/DCF · clock synchronisation
VPN-Tunnel · IPsec IKEv1/IKEv2, OpenVPN
PLC programming
IEC 61131-3 compatible via codeIT, 128 kb program memory
CPU-5E series5e
RISC processor Cortex-A8, 1200 MIPS@800MHz, FPU, watchdog, real-time clock
1GB memory (512 MB SDRAM, 512 MB SLC Flash)
Memory expansion
optional SD card up to 8 GB, 1 GB up to setIT V5
Real-time clock
Errors max. ±20 ppm over entire temperature range, maintenance-free buffer, daylight saving
time changeover, leap year correction
Status displays
LED in front panel for system, communication and binary process values
detailed diagnostics via integrated web server
Operational controls
PLC switch in front panel RUN/RUN-P/STOP
USB pushbutton for configuration/backup/recovery functions
Programming interface
Ethernet LAN 10/100BaseTx, auto-MDIX, USB 2.0 device 12 Mbit/s,
USB 2.0 host 12 Mbit/s (configuration/archive synchronisation via stick)
Fault signal output
to be configured to relay output, parameterisable sys-LED
Power supply
+20 to 72 V DC max. 5 W, (24 V DC 0.2 A/60 V DC 0.1 A) without expansion
Power failure management with power failure buffering
24 V DCvia expansion module PS-60
Dielectric strength
5 kV surge supply & process I/O to PE, according to class VW3
2.5 kV surge, supply to measurands, EIA/RS-232, USB
Standards
EMC: IEC 60870-2-1, EN 61000-4-x, EN 55022,
Insulation: IEC 60870-2-1, IEC 60255-5
NSRL: DIN EN 60950
Housing
Micro, polyamide V0, IP20, weight: 240 g, FW-5-GATE-230 300 g
dimensions W×H×D: 45×105×115 mm; FW-5-GATE-230 68×105×115 mm
expansion: 22.5×105×115 mm
Installation
DIN rail mounting, DIN-EN 60715 TH35
Terminals
MSTB removable screw-type or spring terminal, 0.2 bis 2.5 mm2
Ambience
−20° to +70°C, from 24 V DC: +60 °C, in the value range from 48 V DC: +60 °C,
from 5 EUs: +60 °C Relative humidity < 95%, without condensation
Ordering Information
Telecontrol

FW-5

micro

telecontrol

station (Digital Input, Bluetooth, Relay, Analog)

FW-5-Gate

micro

telecontrol

station (Ethernet LAN TCP/IP, RS-485, RS-232)

FW-5-Gate-4G

RTU with 4G mobile radio modem (Ethernet LAN TCP/IP, RS-485, RS-232)

FW-50

scalable RTU (4/7/14 slots, up to 224 digital I/O, 112 Analog I/O)

Substation Automation

BCU-50

Modular bay station controller (14 slots, up to 224 digital I/O*, 112 analog I/O* 6 LAN segments*)

Communication

Remote I/O

Flexible bus extension, an FW-5 /FW-5-GATE Remote extension modules (EWB) of the FW-5 series

PM-1

Power measurement terminal for

telecontrol

and substation automation
in micro-housing, polyamide V0, IP20, DIN top-hat rail installation