【W-M2B601】2-Ch Voltage/ Current Input Module & 4-Ch Digital Output Module (High Voltage Protection)(Available Soon)
Production information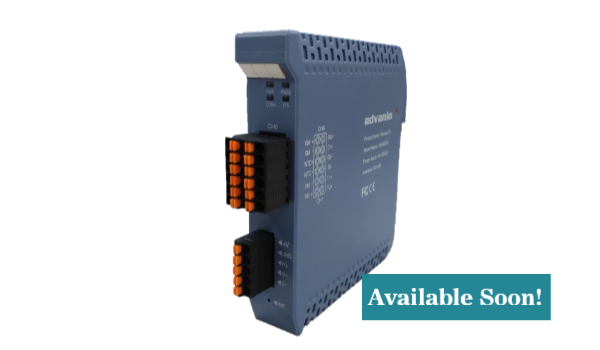 W-M2B601 | 2-Ch Voltage/Current Input & 4-Ch Digital Output Module
4-Ch Digital Output with High Voltage Range: 3.5~30V
2-Ch Voltage/Current Input with High Voltage Protection
High Isolation: 2500V
Communication Protocol: Modbus RTU
Channel Independent Configuration
Common Mode Voltage 240V
Available Soon!
Wolf

Light

Series with Flexible Options for Establishing IIoT!
Wolf Series has established another series Remote I/O Modules which have 2-8 channels provide flexible and light choice I/O modules that are suitable for small and medium industries. The Flexible and light series is designed to fulfill the need for data collection in an easy and fast way. All Flexible and Light Series Remote I/O Modules are easy to configure, make mass deployment simple.

Flexible and Light Remote I/O Modules include RS-485, Modbus TCP and Modbus RTU interface with High Common Mode Voltage Protection, PoE and High Isolation (specific modules). We, Advanio, is also welcome industries request for OEM / ODM service.
Specifications
Technical data: W-M2B601 (Available Soon)
General
Power Requirement
10~36 VDC
Power Consumption
25mA@24V
Temperature (Operating)
-25~70℃
Temperature (Storage)
-30~75℃
Humidity
5~95%
Interface
RS-485
Communication Protocol
Modbus RTU
Communication Speed
Serial: From 1200 to 115.2 kbps
Communication Distance
Serial: 1.2 km at 9.6 kbps
LED Indicators
PWR, Comm, Program, Status
AI Specifications
Channels
2 Channels
Voltage Range
±500mV, ±1V, ±5V, ±10V, 0~500mV,
0 ~ 1V, 0 ~ 5V, 0 ~ 10V
Current Input
±20mA, 4~20mA, 0~20mA
Burn-out Detection
Yes, 4 ~ 20 mA
Channel Independent Configuration
Yes
Sampling Rates
2.5 samples/second per channel
Resolution
16-bit
Span Drift
±25 ppm/℃
Zero Drift
±6 μV/℃
Input Voltage Protection
±240V for Voltage Mode
Common Mode Voltage
240V
Output Specifications
Channels
4 Channels
Output Type
NPN
Output Voltage Range
3.5~30V
Normal Output Current
500mA per Channel
High Isolation
2500 VDC
Startup Value Setting
Yes
Communication Safety Value Setting
Yes
Dimension
20mm * 100mm * 95mm
Weight
65g (Average)
Ordering Information
M2B Light Series - Modbus RTU

W-M2B101

2-Ch 4-in-1 analog input module (voltage / current / thermocouple / RTD) (Plastic / Aluminum Housing)

W-M2B107

4-Ch Thermocouple Input Module (Available Soon)

W-M2B109

4-C- Current Input Module (Available Soon)

W-M2B111

4-Ch Voltage Input Module (Available Soon)

W-M2B113

4-Ch RTD Input Module (Available Soon)

W-M2B115

4-Ch Isolation Voltage/ Current Input Module(High Voltage Protection)

(Available Soon)

W-M2B201

4-Ch Analog Output Module (Available Soon)

W-M2B601

2-Ch Voltage / Current Input & 4 Channels Digital Output Module (Available Soon)

W-M2B301

8-Ch Isolation Digital Input Module

W-M2B401

8-Ch Isolation Digital Output Module

W-M2B403

4-Ch Relay Output Module

W-M2B501

4-Ch Digital Input Module & 4 Channels Digital Output Module

W-M2B502

4-Ch Digital Input & 2 Channels Relay Output Module (Available Soon)

M2J Light Series - Modbus TCP

W-M2J107

4-Ch Thermocouple Input with PoE PD Module (Available Soon)

W-M2J109

4-Ch Current Input with PoE PD Module (Available Soon)

W-M2J111

4-Ch

Voltage Input with PoE PD Module (Available Soon)

W-M2J113

4-Ch RTD Input with PoE PD Module (Available Soon)

W-M2J115

4-Ch Voltage / Current Input with PoE PD Module

W-M2J201

4-Ch Analog Output with PoE PD Module (Available Soon)

W-M2J601

2-Ch Voltage/Current Input Module with High Common Mode Voltage Protection & 4-Ch Digital Output with PoE PD Module (Available Soon)

W-M2J301

8-Ch Digital Input with PoE PD Module

W-M2J401

8-Ch Digital Output with PoE PD Module

W-M2J403

4-Ch Relay Output with PoE PD Module (Available Soon)

W-M2J501

4-Ch Digital Input & 4-Ch Digital Output with PoE PD Module

W-M2J502

4-Ch Digital Input & 2-Ch Relay Output with PoE PD Module (Available Soon)