Base solution for the smallest applications
The advances of the energy revolution are meaning the number of systems and devices to monitor is increasing. Stations become smaller and need to be equipped with telecontrol technology. It is at this point that needs such as functionality and practicability have to be reconciled with the constantly growing challenges in regard to IT security as well as economic and physical restrictions. The m5 with all the necessary basic telecontrol functions offers solutions for numerous application areas, and its particularly compact size and low price are impressive features.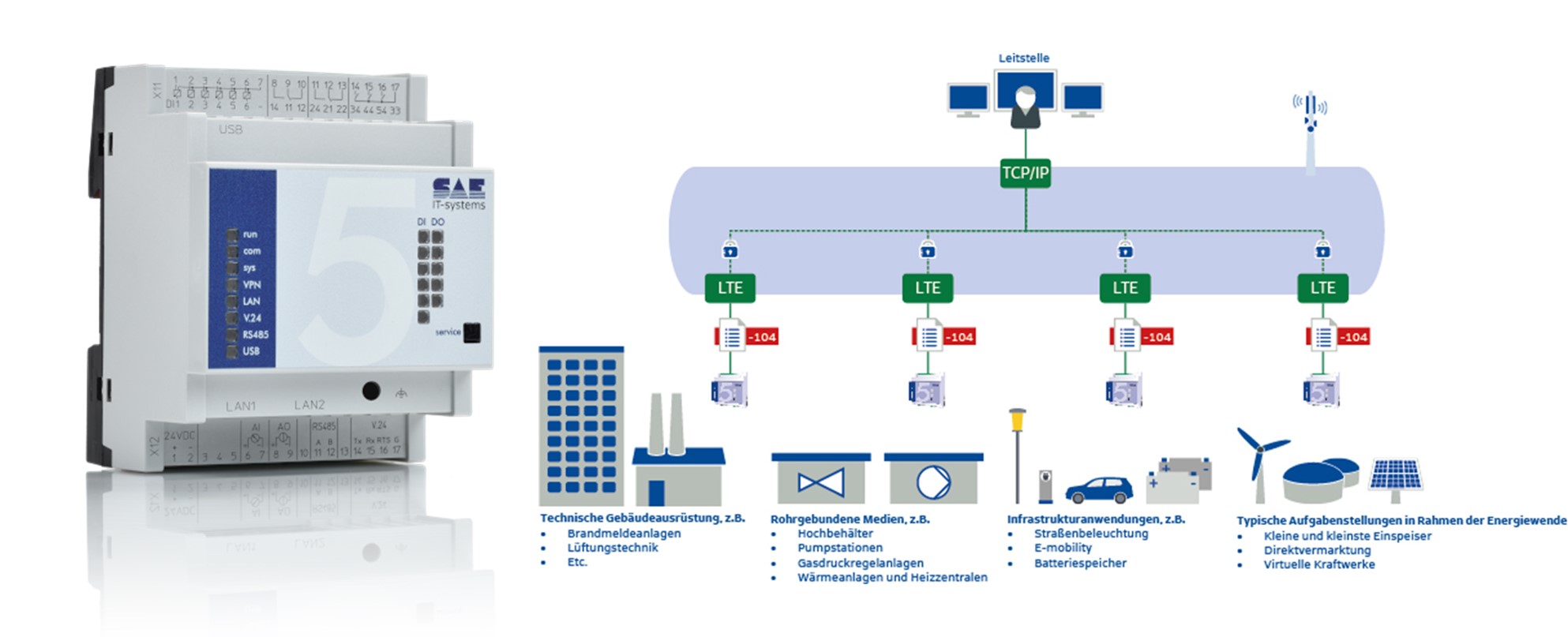 Application areas of the m5
Feed-in management for small feeders
Direct marketing and interconnection of virtual power plants
Monitoring and control unit for infrastructure applications,
pipe-bound media and the provision of contracting services
Charging management for battery storage and e-mobility
Depending on the application, additional components such as external relays may be required.
Outlook: m5 as alternative to intelligent metering system
In Germany, electricity consumers and feeders will in future have the right to be connected to the network by their metering point operator via an intelligent metering system defined by the legislator. The m5 is based upon the technical specifications of this system and, on the basis of many years of practical experience of SAE IT-systems, has functions added that, in our opinion, are of relevance to current and new application areas in the sector. The m5 has the potential to become a component of the intelligent metering system with integration of a CLS interface and implementation of the IEC 61850 protocol.
The m5 takes IT security seriously
Like the series5e telecontrol technology devices, the m5 stands for high IT security. It enables extensive IT security measures, as required in the current requirement profiles of the BDEW whitepaper and BSI recommendations. From the modern Linux kernel to extended firewall rules with granular activation through to user administration with free role assignment (RBAC): The m5 allows an outstandingly high level of IT security.
The m5 as a connection-ready complete solution
If required, the m5 can also be purchased as a ready-to-use complete solution. In this case we will assemble individually designed, ready-to-work small systems depending on specifications and function requirements – so we can ensure customised solutions for your requirements. In addition to the telecontrol unit, these systems generally also include all the other necessary components, for instance an uninterruptible power supply, relays, transfer terminals and many more. The components are usually installed in Eaton, Rittal or Hensel housings.
Technical Data
Capacity and Functionality
6 indication inputs
5 command outputs
1 measurand input
1 set point output
2 Ethernet LAN connectors (separated)
RS-485 field interface
RS-232/V.24 interface
Configuration via LAN and USB
Removable screw terminals
For applications requiring other supply voltages, compact, external power supply units can be added to the m5:
230 V AC
18 to 75 V DC (wide-range)
Communication
For the connection of the large number of small decentralised systems, a powerful LTE modem in a compact format is available for the m5 as an expansion*:
Dual antenna with MIMO transmission
Fallback capability to 2G/3G networks
3GPP cat3 communication to 100 Mbit/s
Also available: 450 MHz modem
Catalog Download:
C
lick here
IEC 61850