W-M2J501 with the features of photo couple isolation. also supports source type output with short circuit protection as input is sink type. Moreover, the PoE secondary power input offers the additional power input. Allowing to be controlled by the web server is a plus. The compact and flexible design is capable of various application .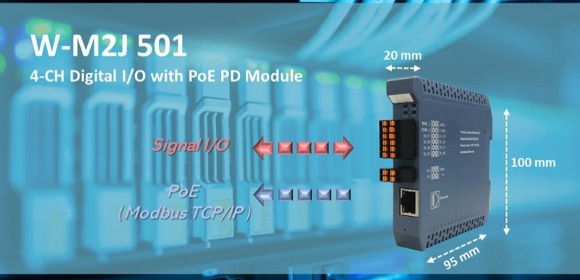 PoE (Power over Ethernet)
Conform to standard ethernet power supply IEEE802.3af, the data and power pass through via ethernet without another wiring and power supply development.
Protocol Modbus TCP and Web Server Support
Support friendly the remote computers, industrial controllers and HMIs. Either any Scada or programmable development software, users can collect the data, control and monitor via protocol Modbus.
Dual Watchdog
Dual watchdog is to ensure the modules against
the interference from a
rugged
and hash environment. From the hardware
mechanism
, the modules will restart operating automatically while crashing. In addition, as the remote master watchdog, it allows to monitor the remote master PC, PAC and PLC
. To p
roceed
immediately from the master, network or communication
where
failed or error
ed
occurred. The module will be reset
to safety value when the time counter is overtime.
High Stability
Operation Temperature
:
-25 to +70℃
Storage Temperature
:
-30 to +75℃
Operating Relative Humidity
: 10% to 90% (non-condensation)
Specification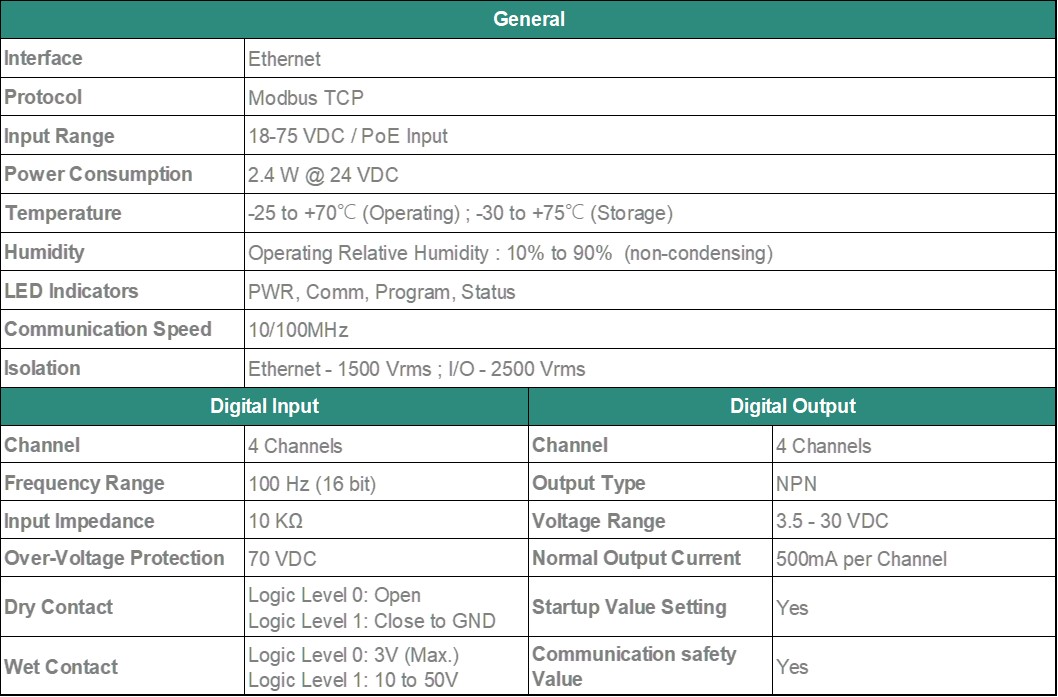 Dimension
&
Wiring Diagram


If you can not attend the conference, however, interested in our solution.
You are welcome to require information from us. Just simply leave your message to us:

Leave a message: Click